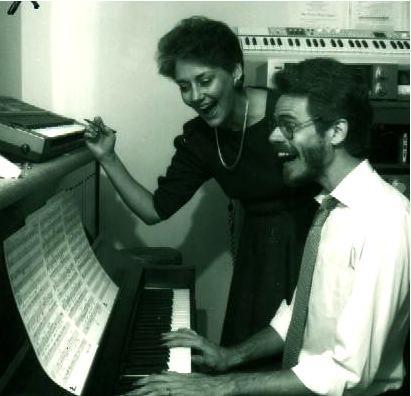 Scott & Paula in the studio
*

"Ragtime Productions...provides everything from jingles to background scores for film and video, to songs created especially for shows, promotions and special projects. The husband and wife team of Scott Berry and Paula Stevens...write, arrange, perform and produce from concept to finished product."
--Kathy Estowski
Central Florida Magazine, May 1987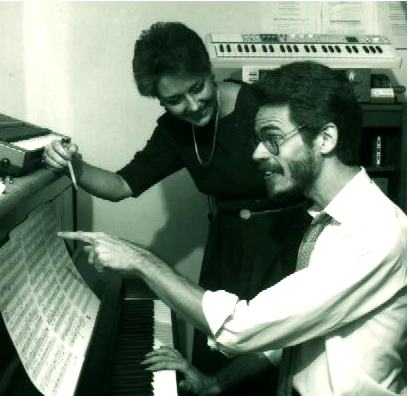 Since coming to Orlando, Scott (along with his wife Paula Stevens) has written and/or produced original music underscoring, written songs for Disney theme parks and jingles for some local businesses. He's composed or prodeuced projects for Orlando's Theater Downtown, The Fringe Festival, The Orlando Magic basketball team, the Philadelphia Phillies baseball team and a local Florida cable children's tv show.

Shortly after starting Ragtime Productions in 1986, Scott and Paula expanded their business and renamed it Scott Berry Productions. In 2001, Scott created the underscoring for THE CHALLENGE, a short film by director/producer Jason Liquori.
Scott has released several of his own CDs and helped in the production of several more. To see his current releases, see
Scott's CDs page
. He still spends most of his spare time in his home studio--just ask his wife. For more work history, see the information below...
PRODUCTION
SCOTT BERRY
Singer/Songwriter/Arranger/Producer (etc.)

~ ~ ~ ~ ~

At age 21, while still living and performing in New Orleans, Scott was offered the opportunity to record an album of his original material at CBS Recording Studios in New York City. What a first experience in the studio! He loved New York and knew that he would one day return.
After recording other demos with his band, TOUCH, in Georgia and re-recording a New Orleans favorite,"Down At Papa Joe's", backed with his own song, "The Drifter And The Lady" on the "b" side, Scott decided to head back to New York in 1977.
Once settled in New York City, Scott quickly landed the role of Musical Director...for the off-Broadway show "I'M GETTING MY ACT TOGETHER AND TAKING IT ON THE ROAD" by Gretchen Cryer and Nancy Ford (produced by Joseph Papp), working with such leading lights in New York--and later in a touring company of the show: leading actresses Betty Buckley, Phyllis Newman, Betty Aberlin, Connie Stevens and leading actors Orson Bean, Steven Keats, Joel Fabiani and George Hosmer.
During this time, Scott appeared around New York City as a solo performer and as musical director of cabaret acts, theater productions and even his own Scott Berry Band. Scott appears (very briefly) in Billy Joel's "Piano Man" video, which was filmed in New York. Find it by searching with the words "piano man video" and you'll see that Scott appears at about 3:51 for a heartbeat--YES, that's Scott WITH A BEARD!
As well as being a musical arranger and performer, Scott was also leading actor in the musical production "VINYL" (J. King and E. Epstein), and musical director for "HOLDING PATTERNS (Jeffrey Sweet). Scott is the composer and co-creator of "THE FIRST GREAT AMERICAN TRAVELING CARNIVAL" (with Lila Levant) and"BEING IN LOVE" (with Ralph Tropf). Scott also underscored the dramatic plays "OPTIONS" (Andrew Forster) and "THE WAILING MIST" (Greg Brennan).
~ ~ ~ ~ ~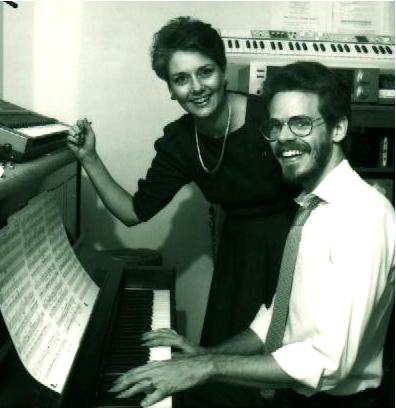 WORK HISTORY:

ORLANDO

STUDIO, FILM & TV

NATIVE SPIRIT CD (an American Indian music project) 2004

DETROIT SAM CD (Sandie Sparks) 2002
(Pianist/Producer)
MORE THAN LOVE & SERENITY 2002
(Songwriter, Performer, Producer...Self-produced CDs)

THE CHALLENGE (Film Short - HocusFocus Productions) 2001
(Composer/Musician/Music Producer)

I WISH YOU WELL 2001
Country/Folk Artist-CONNIE BLACKWOOD
(Piano Tracks)
"Z" (Film Short - HocusFocus Prod.) 2000
(premiered at the TAMBAY FILM FESTIVAL)
(Lead Actor)


"SWINGSHIFT" Jazz CD 1996
(Scott Berry Trio)

EXODUS (W. Brady, E. Hargett & J.Dowdy) 1992
Live production for the Orlando FRINGE FESTIVAL
(Musician/Music Producer)

HALFTIME SHOWS 1990 - 91
Orlando MAGIC/Magic Marketing Concepts
(Composer/Arranger/Music Producer/Musician/Voiceover Artist)

JOE TURNER'S COME AND GONE 1989
(August Wilson)
(Theater Downtown/ Directed by RALPH TROPF)
(Composer/Music Producer of original underscoring)

PHILLY PHANATIC Theme Song 1989
Philadelphis PHILLIES/Magic Marketing Concepts
(Composer/Arranger/Performer/Music Producer)

GIOVANNI'S BIRTHDAY BIG TOP" - TV show 1988
CableVision of Central Florida
(Composer/Lyricist/Performer/Music Producer)

Various Original Musical Creations 1986 - 87
Walt Disney World Co.
(Composer/Lyricist/Arranger/Musician/Voiceover Artist)

Radio ads (co-written with Paula Stevens) 1987
Puff'n'Stuff Catering and NBN - National Business Network
(Composer/Lyricist/Musician/Singer/ Music Producer)

ADAM'S SONG (S. Berry/P.Stevens) 1987
Promotional Song for Adam Walsh Child Resource Center
(Composer/Lyricist/Musician/Music Producer)

SCHOOL IS COOL (S. Berry/P. Stevens) 1987
Special Education project with Giovanni Magic Productions
(Composer/Lyricist/Musician/Singer/Music Producer/Voiceover Artist)
~ ~ ~
WORK HISTORY:

HOLDING PATTERNS
by Jeff Sweet July 1984
Musical Theater Works Musical Director
THE FIRST GREAT AMERICAN
TRAVELING CARNIVAL
November 1983
Fraunces Tavern Composer, Musical Dir.
VINYL
by J. King & E. Epstein April-May 1983
Eric's Restaurant Musical Dir., Lead Actor,
Arranger, Pianist, Singer
OPTIONS
by Andrew Foster April-May 1982
N.Y. Stage Works Composer, Arranger,
Musical Dir.
THE WAILING MIST
by Greg Brennan Dec. 1979
Theater of the Open Eye Composer, Pianist
I'M GETTING MY ACT TOGETHER
AND TAKING IT ON THE ROAD
1978-1981
by Gretchen Cryer and Nancy Ford
Public Theater and Orig. Cast Musical Dir.,
Circle In The Square Downtown Pianist, Actor
~
Scott also performed in Night Clubs, Cabarets and other venues as solo pianist/singer and with the Scott Berry Band at TRAX and J.P.'S
...
...and oh by the way, Scott is on The "PIANO MAN" video, filmed in NYC.
(...my 5 seconds of fame...)